产品描述
1. Applicable scope
1SM2Z series of intelligent molded case circuit breaker (hereinafter referred to as circuit breakers), the company uses the international advanced design and manufacturing technology research and development of new circuit breakers. The rated insulation voltage of 800V, for AC 50Hz, rated operating voltage
400V and below, rated current up to 800A in the circuit for frequent conversion and the motor is not frequent use of the start. The circuit breaker has the functions of overload long delay inverse time, short circuit short delay inverse time, short circuit short delay time limit, short circuit instantaneous and undervoltage protection function, can protect the line and power supply equipment from damage.
The circuit breaker has the characteristics of compact structure, small volume, high breaking, short arc, internal and external accessories, convenient and intuitive, and the user can set the necessary protection characteristics to make the selective protection, so that the circuit breaker is equipped with the upper and lower More reasonable.
The circuit breaker has the function of running current beam indicating, pre-alarm indication, overload indication, intelligent controller self-diagnosis function and trip test function, and has a grounding protection function, internal temperature monitoring function, isolation function, which represents the isolation symbol, There are communication interface products with fieldbus communication function, can communicate with the computer network, remote control, telemetry, remote control, remote and other functions.
2. Applicable standards
The transformer in the circuit breaker can provide the self-generating power source. When the current of the three phases is greater than 0.2In and the single phase current is greater than 0.5In, the long delay, short delay and instantaneous protection characteristic can be realized reliably.
This series of circuit breakers perform the following standards:
IEC60947-1, GB 14048.1 "Low-voltage switchgear and control equipment General"
IEC 60947-2, GB 14048.2 "Low voltage switchgear and controlgear low voltage circuit breakers" and appendix F "Additional requirements for electronic overcurrent protection circuit breakers" IEC60947-4, GB 14048.4 "Low voltage switchgear and control equipment Low voltage electromechanical contactors And motor starters "
IEC60947-5, GB 14048.5 "Low-voltage switchgear and controlgear control circuits Electrical and switching elements Part 1 Electromechanical control circuit appliances"
3. Normal working conditions
The ambient air temperature is -5 ° C to + 40 ° C and the average of 24 hours does not exceed 35 ° C; the installation site does not exceed 2000 m above sea level. When the maximum ambient temperature is + 40 ° C, the relative humidity of the air does not exceed 50%, and a relatively high relative humidity can be allowed at a lower temperature, for example, up to 90% at 20 ° C. Special measures should be taken for occasional condensation due to temperature changes.
Pollution level is 3; circuit breaker main circuit installation type Ⅲ, the rest of the auxiliary circuit, control circuit installation category Ⅱ.
4. Installation method
This series of circuit breakers can be installed vertically, can also be running. The circuit breaker can not be poured into the line, allowing only 1,3,5 connected to the power cord, 2,4,6 then load line.
5. Model, specifications
Note: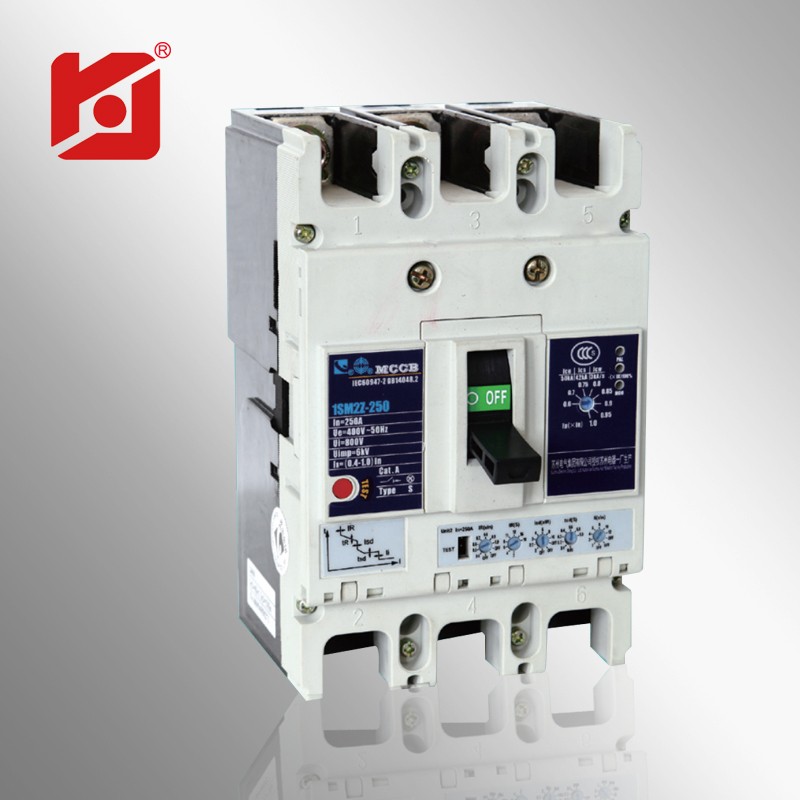 Note:
1) into the board before the wiring, board wiring, plug-in wiring (board wiring can not note)
2) three-pole products without code, quadrupole products are divided into C-type, D-type C: neutral pole (N pole) and other three poles together, with over-current protection D: neutral (N pole) Always connected, not with the other three poles together, there are over-current protection
3) mode of operation: the handle directly without the code, the handle handle with Z said, electric operation with D said
4) divided into 100A, 250A, 400A, 630A, 800A
5) Tripping method and the accessory code are listed in Table 1 below